The Most Popular Free Workout Routines from Reddit
Written by the Boostcamp staff
Oct 4,2022 | 10 min read
 230
Going to Reddit for workout routines?
Reddit is usually looked at as a platform for people to explore topics that interest them, and those topics range from anything from scary stories to actual educational topics. What many people do not know is that Reddit is perhaps the best source of science-based fitness content on the internet. As someone who's participated in various fitness communities since 2006, the Boostcamp team has seen that Reddit fitness has stood the test of time. Whether you are looking for bodybuilding or powerlifting programs, or knowledge around supplements and steroids, Reddit is a platform that you can find information on these topics.
But why is Reddit good for finding fitness programs? Well there are a few theories. First, Reddit is where all the fitness nerds gather online, with many active subreddits (think of subreddits like branches stemming from a tree) like r/fitness, r/weightroom, r/powerlifting, r/bodyweightfitness, and r/powerbuilding (there are over 15 million members on just those subreddits alone). Second, unlike most social media platforms that just have an upvote button, which pushes up content based on virality that may be trash quality, Reddit's upvote and downvote buttons work together to control quality. It's not perfect, but it is better than the rest.
Getting to the matter at hand, Reddit has aggregated many of the best free workout routines on the internet made by world-class coaches like Greg Nuckols, Jonnie Candito, Jim Wendler, as well as made by active Redditors, like Cody LeFever (GZCL) and nSuns, who have gained cult-like fame.

In this post, I'll focus on 10 of the most popular workout routines as voted by Reddit. Keep in mind that there are many incredible new programs (including many available on Boostcamp App) and paid programs out there, but I'm just going to focus on free programs that are tried and true, as proven by reviews and discussions by thousands of trainees who've run them successfully.
Without further ado, here are the 10 most popular free gym programs on Reddit for building strength and muscle. These are ordered based on the experience level of the programs, from beginner to intermediate to advanced.
1. r/Fitness Basic Beginner Routine
Level: Beginner, Novice
Days Per Week: 3 days
Program Length: 12+ weeks

This is the ultimate beginner program for barbell strength training. You might ask, what about Starting Strength or Stronglifts 5x5? Believe it or not, Reddit generally dislikes these programs because many trainees develop "T-Rex Symptom", which is where someone develops disproportionately larger legs relative to their upper body due to too much squat and deadlift volume. This Reddit aggregated program addresses the weakness of those programs with more back and upper body volume.
2. 5/3/1 for Beginners
Level: Beginner, Novice
Days Per Week: 3 days
Program Length: 12+ weeks
Designed by renowned strength coach Jim Wendler, 5/3/1 is a proven system for building strength and muscle with a focus on the compound barbell movements. There are many variants of 5/3/1, with this particular variant designed specifically for those who are newer to lifting and can make faster progress.
3. Strong Curves
Level:

Beginner, Novice


Days Per Week:

3 days


Program Length:
8 weeks
Strong Curves is written by coach Bret Contreras, who is known as The Glute Guy and the world's foremost expert on glute training. This is an excellent program to introduce women to weight training. While there certainly is a lower body focus in the program, the exercises are quite diverse and hits the entire body.
4. GZCL Program




Level:

Novice, Intermediate


Days Per Week:

3 or 4 days


Program Length:
12+ weeks
Designed by r/fitness long-term member and coach Cody LeFever, GZCL is a very flexible program methodology that can be applied to many different training goals. In particular, GZCLP is a linear progression template that is a favorite amongst Redditors and beyond (including Meg Squats who made a popular YouTube video about GZCL after getting incredible results).
5. nSuns




Level:

Novice, Intermediate


Days Per Week:

3, 4, 5, or 6 days


Program Length:
12+ weeks
Some Redditors might already be calling for my head for not putting nSuns as #1 on the list (as I said, the list is in order of training experience, from beginners to more advanced). nSuns is a gym workout routine made by another long-time r/Fitness member. It gained fame for being an incredibly effective high volume program for building strength in the big 3. There are quite a few different variations of nSuns, such as 4-day a week, 5-day a week, 6-day a week version depending on your training goals.
6. 5/3/1 BBB




Level:

Novice, Intermediate


Days Per Week:

4 days


Program Length:
12+ weeks
Jim Wendler's 531 program makes the list again, this time with a program variation called 5/3/1 Boring But Big. Like the title suggests, this is a high volume 5/3/1 variation to help you put on strength and size. This is made for more of an intermediate demographic, as compared to the 5/3/1 for Beginners.
7. Greg Nuckols 28 Programs
Level:

Beginner, Intermediate, Advanced


Days Per Week:

variable # of days


Program Length:
4+ weeks
What? 28 programs? OK don't worry it's not actually 28 programs, but 28 sheets in a spreadsheet that's meant to be combined into 1 routine based on the exercise (squat, bench, or deadlift), level (beginner, intermediate, advanced), and frequency (1x, 2x, or 3x per week). Think of this as a highly flexible spreadsheet that allows you to create your own program. If you hate spreadsheets but love Greg (I mean, who doesn't?) and still want to do his program, you can check out the free Greg Nuckols Beginner Program on Boostcamp App.
8. PHUL




Level:

Novice, Intermediate


Days Per Week:

4 days


Program Length:
12 weeks
Power Hypertrophy Upper Lower (PHUL) is designed by Brandon Campbell for the intermediate lifter who wants to continue to develop their strength in heavy compound movements like the squat, bench press, deadlift and overhead press, but also wants to add size to their physique. It's an excellent program if you want more exercise variety than compound barbell movements.
9. PHAT




Level:

Intermediate, Advanced


Days Per Week:

5 days


Program Length:
12 weeks
Developed by Dr. Layne Norton, the PHAT workout routine blends power and hypertrophy work, making it ideal for bodybuilders looking to gain size and lifters that want to look aesthetic without being weak. Each PHAT training session is centered around a major compound movement (squat, bench press, deadlift, dumbbell press). A training week has 5 sessions: 2 power sessions and 3 hypertrophy sessions.
10. Candito 6-Week Strength




Level:

Intermediate, Advanced


Days Per Week:

3-5 days


Program Length:
6 weeks
Powerlifting program for intermediate to advanced lifters designed by the godfather of strength fitness YouTube, Jonnie Candito. This is one of the most effective programs for breaking personal records in the squat, bench, and deadlift. Don't take my word for it, just search up "Candito 6-Week program review reddit" and you'll find tons of athletes raving about the program's effectiveness.
The Most Popular Free Workout Programs Wrap Up
And that's a wrap! You can't go wrong by choosing any of these free Reddit workout programs. For more programs, check out Boostcamp App for workout programs made by world-class coaches for bodybuilding, powerlifting, powerbuilding, athletics, and more. You can also create your own custom workouts on the app. Boostcamp is available for free on iOS and Android.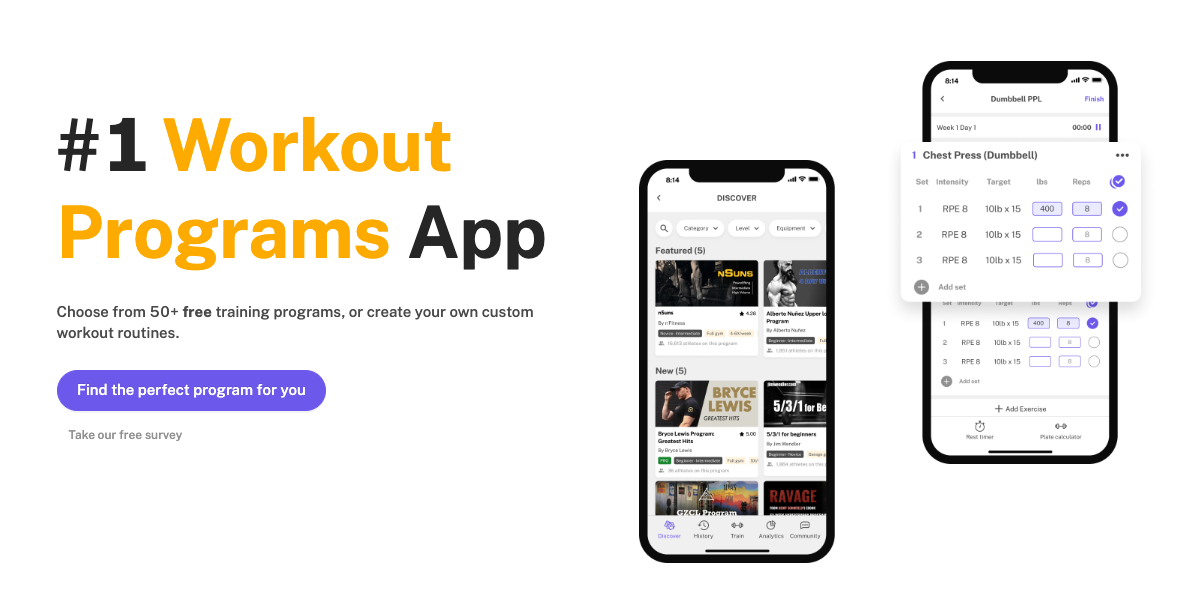 By Michael Liu
Last Updated October 3, 2022